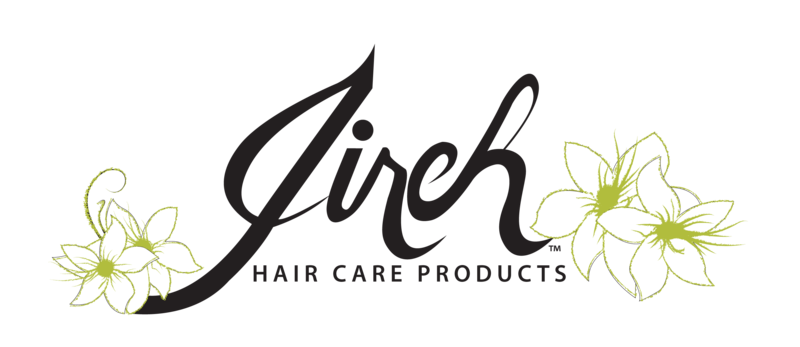 TERMS & CONDITIONS
YOUR USE OF THIS WEBSITE SHALL BE DEEMED TO CONSTITUTE YOUR CONSENT TO BE BOUND BY THIS AGREEMENT & SHALL BE ENFORCEABLE IN THE SAME WAY AS IF YOU HAD SIGNED THE AGREEMENT. IF YOU DO NOT AGREE TO BE BOUND BY THIS AGREEMENT, PLEASE DON'T USE OUR WEBSITE OR ORDER ANY OF OUR PRODUCTS
SHIPPING

Due to the high volume of orders please allow 72 business hours Monday-Friday for packaging and shipping. Once your order is printed you will receive your tracking information.
We use USPS as our shipping provider to ensure proper & safe delivery.
To prevent fraudulent activities and to protect our customers all packages are insured with

Priority Mailing which includes up to $50 insurance coverage.
Once the package has left our facility securely and provided tracking information Jireh Hair Care Products is not responsible for lost or stolen items the customer is responsible to contact

USPS at USPS.com (file a claim) or the Claim Service Center at
Call 1-866-974-2733® to file a claim please be able to provide tracking information and attach a copy of receipt for reimbursement if please allow 7-10 business days to process and resolve the issue.
For insurance purposes if there is any issue with your order please provide a FRONT and BACK photo copy of the package in which your item(s) was shipped to you in as well as a photo copy of your packaging slip. Please allow 48 business hours to process and resolve the issue.
Domestic (USA)
Orders are shipped via USPS PRIORITY which takes approximately 3-4 business days for delivery, once the order has left our facility
Canada shipping

Our Website is only for U.S. purchases. Canada Shipping Please email texturebe@gmail.com
PURCHASES
We reserve the right, without notice, to discontinue or change the specifications & prices on our products without any obligations to you. Be advised that prices that prices, product availability, & all purchase terms are subject to change without prior notice. If & when you order our products, payments must be received by JIREH HAIR CARE PRODUCTS prior to our acceptance of your order. We may require additional information regarding your order if you have not provided all of the necessary information required, & may cancel or limit an order any time after it has been placed. Once your order is properly completed & authorized, your items will be forwarded to our manufacturing department & properly prepared for shipping. We will add applicable Sales Tax & shipping & handling fees to all orders.
CANCELLATION
Once you order is placed, you then have a 24 hour window to cancel your order.
****IF YOUR PACKAGE IS RETURNED TO SENDER WITH PACKAGE BEING SEALED WE WILL ISSUE YOU A REFUND FOR ITEM(S) ONLY. SHIPPING AND HANDLING IS NONREFUNDABLE****
RETURN/REFUND POLICY
ALL SALES ARE FINAL

There are NO REFUNDS/ NO EXCHANGES on our production once a package has been declared delivered. However, if there are any issues that may arrive that is out of your control, due to a JIREH HAIR CARE PRODUCTS error, or the SHIPPING SERVICE, we will look into helping you resolve your issue. Each issue will be handled on a case by case basis & results will vary.


ELIGIBILITY
In order to use our website you must be 18 years old & or at least 13 years old with parental consent. Our website is not intended for people under the age of 13, & by using our website you affirm that you are the appropriate age to do so.




CONTENT

You must only use our website for lawful purposes, & you must not use it in any way to infringe on the rights of JIREH HAIR CARE PRODUCTS, our affiliates, subsidiaries, clientele, and customers. You can not copy, reproduce, rent, lease, loan, or sell content received from our website. You may not modify, distribute, or repost anything for any purpose from our website. You may not exploit or commercialize the content found on our website in any way. Doing so, will result in consequences upheld by the applicable Laws.




***DON'T CREATE OR USE A FALSE IDENTITY ON OUR WEBSITE. DON'T SHARE YOUR ACCOUNT INFORMATION OR ALLOW ANY PERSON OTHER THAN YOU TO ACCESS YOUR ACCOUNT ON OUR WEBSITE***




INFORMATION PROVIDED

The information, recommendations, & advice on our website is not in anyway medical or healthcare advice or recommended as medical diagnosis or treatments of any kind. We do not substitute any of our products, information, or services for professional opinions or facts. Please talk to your Physician or healthcare provider before you begin using any of our products, if you have any ongoing medical conditions. JIREH HAIR CARE PRODUCTS is not liable or responsible for any consequences directly or indirectly relating to any action you take in regards to information & products from our website. We are not & will not be responsible for any damages or loss, related to the accuracy, completeness, or timeliness of the information on our website.




LINKS


Although our website links you to other sites for advertising purposes, we have absolutely no control over what takes place between you & the third-party. These are strictly for convenience & not as endorsements. You use our links fully at your own risk. Once you leave our website through a link to another site, you are subject to the privacy policy & terms of uses of that website.






COMMUNICATION

Communicating with us is simple & easy. All of our calls are monitored & recorded. If you have questions or concerns, or would like to join any of our various programs, please email us at info@jirehhaircareproducts.com, or if you would like to write, mail your concerns to 13428 Maxella #193 Marina Del Rey, Ca 90292. Please allow us adequate time to process & find the best solution & resolution for all of your issues & concerns.




INDEMNIFICATION

We may change or alter these TERMS OF USE & CONDITIONS OF PURCHASE at any time to our discretion. We will post all changes to our website without notifying you. By using our website, you automatically agree to these changes.




TRADEMARKS, PATENTS, & NOTICES

JIREH HAIR CARE PRODUCTS & all products offered are trademarks of JIREH HAIR CARE PRODUCTS INC.. You may not use or display any of our trademarks or website information, without our prior written consent.




CONDUCT


JIREH HAIR CARE PRODUCTS sole purpose is to protect our brand in the most effective & safest way possible. We offer the highest quality of products with a awesome customer experience. We keep all of our Standard Business Practices above board, & we always strive to guarantee customer satisfaction.